Loan Products
GAP Insurance
Your NEW car becomes a USED car as soon as you drive it off the lot.
If the value of your car is less than the balance of your auto loan, you're "upside down," and there is a gap that isn't covered by standard auto insurance. This difference requires a special type of protection called GAP coverage.
How GAP Coverage Works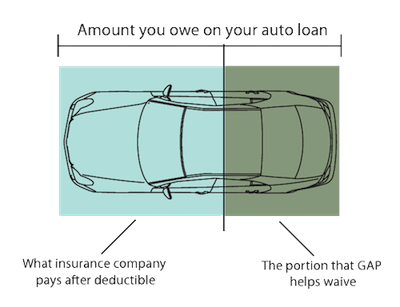 Amount you owe on your auto loan: $20,000
Your car's "actual cash value" at the time of loss: $15,000
What insurance company pays after deductible: $14,500
GAP helps waive: $5,500
Do you need GAP protection?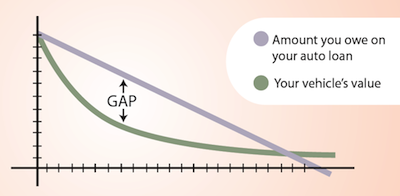 A car starts depreciating as soon as you buy it, but never more than when you drive it off the lot — turning it from a "new" car to a "used" car. To estimate the anticipated depreciation and potential GAP risk, please contact your credit union representative and ask to receive a GAP Risk Illustration through the VisualGAP system.
What is GAP? Peace of Mind!
If your vehicle is ever totaled or stolen, your primary insurance will usually pay only the current market value of your vehicle, less your deductible. If the actual cash value is less than your current loan amount, the result could be a financial gap where you must pay the difference between your loan balance and your insurance settlement. This could mean thousands of dollars out of your pocket.
Help eliminate this possible out-of-pocket burden with GAP.
Help ensure peace of mind that you will not continue to owe for a vehicle you can't drive.
Help protect your credit rating.
Credit Life and Credit Disability Insurance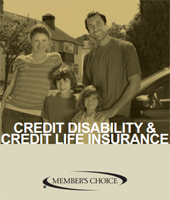 Choosing the Insurance that may help give you Peace of Mind knowing you are protected!
While you can't predict an accident, you can plan how you'll be able to financially handle one should it occur. MEMBER'S CHOICE® Credit Life and Credit Disability Insurance plans offer loan-specific coverage.
MEMBER'S CHOICE® Credit Life Insurance is a voluntary coverage that can help reduce or pay off your loan balance, up to the policy maximum, if you or your covered co-borrower pass away.
MEMBER'S CHOICE® Credit Disability Insurance is a voluntary coverage plan that helps make monthly loan payments, up to the policy maximum, should you become totally disabled.
Stop in or call District One Highway Credit Union at 816-387-2423 to get more information. We can give you an estimate on your loan payment with MEMBER'S CHOICE® Credit Life & Credit Disability Insurance!
Your purchase of MEMBER'S CHOICE® Credit Life and Credit Disability Insurance, underwritten by CMFG Life Insurance Company is optional and will not affect your application for credit or the terms of any credit agreement required to obtain a loan. Certain eligibility requirements, conditions, and exclusions may apply. Please contact your loan representative, or refer to the Group Policy for a full explanation of the terms. CDCL-2985512.1-0320-0422
Home Equity Loans
Home Equity Loans through District One Highway Credit Union can be a great way to fund improvements to your home, maybe a new pool, or even a way to fund a fabulous wedding or honeymoon.
Home Equity Loans are a Line of Credit loan that uses your home as collateral. The Credit Union will loan 50% of the current tax assessment value of 80% of an appraisal. There is a 10 year draw period with a 15 year repay. This is an adjustable rate loan with interest rate tied directly to the Prime Rate.
Call or stop by the office for more details.